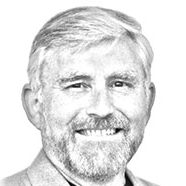 David James
David James is a co-founder and the executive director of the The Alliance for Biblical Integrity (ABI).
Dave earned his undergraduate degree in engineering from Rose-Hulman Institute of Technology and his masters in Biblical Studies from Dallas Theological Seminary. He also holds a diploma in Biblical Studies from the Word of Life Bible Institute.
He served with Word of Life Fellowship for twenty-one years, sixteen of those years as the Founding Director of the Word of Life Bible Institute in Hungary.
As the executive director for ABI, Dave is responsible for ministry development, teaching, research, writing, as well as the technical aspects of developing and maintaining the ABI website.
Dave continues to teach and preach in many venues (including in Word of Life Bible Institutes around the world, as an adjunct professor for Grace College in the Wabash Valley Correctional Facility, as a conference speaker, and is also available for pulpit supply).